Thank You For Your Order! Instructions to Download the Cheat Yourself Lean Guide is Below.
Hey! Congrats on getting your hands on the Cheat Yourself Lean Guide. 
I'm Mike Whitfield, Master CTT and I've helped thousands of men and women all over the world finally get the "breakthrough" they needed to get back into shape without the "fluff" or empty promises.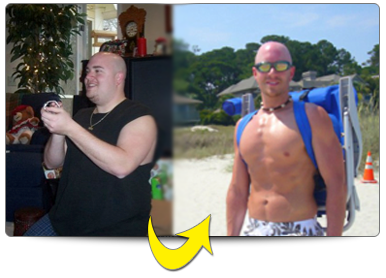 That was me on the left before I lost (and kept off) 115 pounds.
No... it wasn't because of the Cheat Yourself Lean Guide alone (ha, I'm not one to promise a miracle!). But it is a start. And a start is the beginning of momentum...
Have a great day and enjoy the guide!
Mike Whitfield, Master CTT
Today, my friends and nutrition experts Joel and Josh agreed to give away their "One Day Diet Cheat Sheet" that goes PERFECTLY with your 31 Snacks and Recipes Guide. As you know, you CAN NOT out-train a bad diet. This is the simplest "Cheat Sheet" that can be implemented in seconds and my clients have used it with AMAZING success. The best part?
It's FREE! Download it now while it's available (opens in a new window so you won't lose this page)...
Download Your Cheat Yourself Lean Guide
Simply RIGHT CLICK on the  large download link below.  Depending on your browser, choose:   'Save Target As…' , 'Save Link As…' or  'Download Linked File As…'.  You can then save it on your computer.
MORE Good News for You...


See Exactly How it Works by Clicking Here

This report is compiled in an Adobe Acrobat PDF file format.   This format is compatible with all computers including Mac and PC.
Most computers already have Adobe Acrobat PDF Reader installed.  However, if you do not already have Acrobat Reader, you will need to download it in order to read this report. If you do not have Acrobat Reader, you can download it free by clicking on the image below.
Chrome

Select "Save Link As" when you left click on the button above save the file to your computer

Firefox

Select "Save Link As" when you left click on the button above save the file to your computer

Safari

Select "Download Linked File As" when you left click on the button above save the file to your computer

Internet Explorer

Select "Save Target As" when you left click on the button above save the file to your computer