Congratulations! Your download link will be emailed to you shortly. Please allow 10-15 minutes for delivery. In the meantime,

here's some good news!

...
Now You Can Strategically
ABANDON

Your Boring Diet 100%

Guilt Free

 As You Naturally Boost Your 

Fat Burning-Hormones... 



And...You'll See

Visible

 Results In As Little As

3 Short Days!
You'll discover how to...
ENJOY your favorite desserts such as chocolate and ice cream plus "forbidden" foods like juicy burgers, soft pretzels and more...
LEVERAGE your "cheat foods" to recharge your metabolism and melt away fat from your hips, thighs and stomach
Read this Highly Controversial Article by:
Mike Whitfield, Master CTT and Contributor to the Men's Health Big Book of Getting Abs - BEFORE you eat your next meal!
Did you know you "cheat" foods can help you speed up your metabolism and lose fat FASTER?
I'm talking about moist chocolate cake, glorious bread and so much more...
And let's face it...
We all love eating these "cheat" foods.
Yet... every time you indulge in the piping hot breadsticks or cave into your cravings, you end up expanding your waist line and storing fat on your thighs, glutes and belly.... and even that pesky "back fat"... all because we just love food!
So even though that ONE meal didn't put on pounds and pounds of fat, you may FEEL fat and worst... GUILTY.
Well, I have good news...
There's a strategic way to STOP this emotional (and physical) rollercoaster once and for all, while you naturally maximize your body's most critical fat-burning hormones and your metabolism.
Now you would agree, that would boost your fat loss, right?
What I'm about to share with you is HOW to eat MORE of your favorite foods, break all the rules of "dieting" while accelerating your hopes of getting into shape faster than EVER... NO MATTER WHAT DIET YOU'VE TRIED BEFORE. 
It's the only Cheat Food guide scientifically PROVEN to speed up fat loss and actually USE your favorite "cheat" foods for a fire-burning metabolism that you'll only find on this page.
So if you're always thinking that you're never get in the shape you've always wanted or get a lean, sexy flat stomach unless you avoid dairy, gluten, sugar and other "forbidden" ingredients, this article will show you otherwise and that it IS possible.
Just keep reading, and you'll see exactly how you can use this "loophole" on your body today, and see VISIBLE results in as little as 3 days...
The Diet "Rule" DRAINING Your Body's Natural Ability to Burn Fat...
Let me ask you something?
Have you ever been overwhelmed with guilt when you "fell off the wagon" after eating something you know you shouldn't have when you're trying to lose weight? Well, I know exactly what that feels like.
Well guess what? I'm about to show you why you should PURPOSELY eat these "cheat" foods can lead to your sexiest figure EVER, while making it fun to "diet".
This is great news for you, especially if you've been afraid of eating carbs. So keep reading and I'll reveal how you can do this. You'll find out that by limiting these foods, you've actually been keeping your body from burning more fat. In fact...
Science

PROVES

That Strategically Cheating

FLOODS Your Body

with Fat-Burning Hormones and Stops Fat Storage...
You see, it takes your body about 4-5 days to "trigger" your body into starvation mode. Starvation mode is when your body reacts to limited calories by storing MORE fat (all while making a very sluggish metabolism). This leads to weight gain, even when you're on a diet! 
However...

It only takes a VERY short time to "reengineer" this response. And you do this by strategically "cheating" on your diet.
By giving your body these "bursts" of increased calories from foods such as pizza, chocolate, pretzels and more that I teach you in my Cheat Yourself Lean Guide, you crank "on" your dead metabolism by maintaining a fat-burning environment. All this is done with your favorite foods! 
Oh, Did I Mention How POWERFUL
This Approach is Mentally?
A study from the University of Minnesota shows that rewarding yourself after you've followed through a healthy behavior will increase long term willpower.
In fact, the researchers quoted, "It might be an even better approach idea to reward ourselves first, and use the mood boost to follow through".
Now it makes sense, right? 
You see, WITHOUT "rewarding" (also known as "cheating"), your body STORES fat seeing that it's getting a reduction in calories every day.
That means as you continue to eat less, your weight loss will slow down or worst... completely stop. This causes your energy to be drained and your metabolism to practically crawl.
You might have experienced this yourself... you go on a diet... ANY diet and you see some amazing progress within the first 2 weeks. Then your progress becomes slower. Then suddenly, within weeks, it stops.
You see, it's a battle. You want to lose fat. Your body wants to STORE fat. And guess what? Your body will win EVERY time.
This is frustrating, I know.
BUT NOT ANYMORE...
You know the shame and guilt when you fell off the wagon?
That ENDS today.
Now every time you reward yourself (or "cheat"), it will be done with purpose. And every time you do, you'll know that it will "fire up" your metabolism and speed up your fat loss, all while flooding your body with MORE fat-burning hormones.
Imagine that... enjoying a decadent slice of chocolate cake with chocolate frosting WITHOUT the guilt.
So you'll be encouraged to FEED your cravings rather than avoid them. (Isn't that a lot easier?).
And this is why Cheat Yourself Lean is so much easier mentally than ANY other diet.
Strategically Cheating Helped Me

Lose and Keep Off 115 Pounds

for Over 10 Years
In fact, once I started to cheat more, I lost fat faster. This kept me going and motivated and it will keep you motivated, too. In fact, take a look at this pic: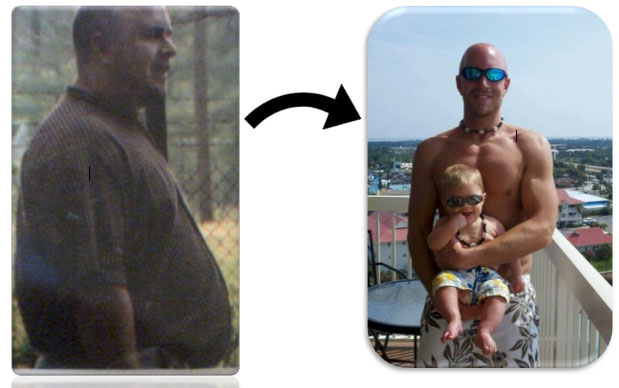 On the left, I'm in my 20's with no kids. On the right, that's me in my 40's with my son! 
Look, this works even if you're in your 40's, 50's... or heck, even your 60's! Anyone can use these "Cheat Yourself Lean" strategies. (I once worked with a client in her 80's!). 
I've worked with thousands of people through my online coaching programs. And I've finally perfected an easy-to-follow guide that helps you leverage your reward meals to boost fat loss... not slow it down. 
You don't need to suffer through long, boring workout DVDs or eating veggies and protein powder. 
It comes down to this... start cheating yourself LEAN.
The Science Has Proved This Works


When Done Right
Now remember, the Cheat Yourself Lean Guide works EXTREMELY well and it's easy to use... plus, you'll see VISIBLE results in as little as 3 short days… BUT...
You have to understand it's not a "quick fix" and you'll have to follow it and not just "wing it".
It's simple. It's strategic. And it's unusually effective, but it's NOT easy.
You already know that there isn't ANY "easy" fix for getting a lean, flat attractive belly.
That's the media telling you that nonsense.
But if you're willing to follow a SIMPLE plan that is VERY doable, you can overcome the years and frustrations of dieting in the past.
The best part? You won't have the dreaded "rebound weight gain" because "cheating" keeps the weight OFF.
And you can make it happen starting today.
Let's see how this works...
Stresses your body, therefore stalls your metabolism to a screeching HALT
Tears down lean muscle, forcing your body to burn less calories at rest
Causes weight gain the second you stop the diet
Provides no "wiggle room" or enjoyment of food!
Ongoing weight loss plateaus
Works AGAINST your natural ability to burn fat
INCREASES your metabolism due to INCREASED fat-burning hormones
Helps you keep calorie-burning muscle so you look more defined as you lose fat
Adapts to your body so that you NEVER have the rebound weight gain
Requires that you strategically enjoy your favorite foods!
Gives you a constant "surge" in your metabolism so you NEVER face a plateau
Works WITH you to provide a happy, fat-burning hormonal environment
Will it work for you? Well, here are just few of my Transformation Contest Winners that have won a combined $5,000 in contest money...
Everything is Laid Out for You in This NEW Cheat Yourself Lean Guide
Now I Must Be Transparent. The Cheat Yourself Lean Guide is NOT For Everyone
It's really important you understand this. The Cheat Yourself Lean Guide is NOT a short-cut. Don't expect some recommendation of a "miracle pill". In fact, there are no supplement recommendations!
Also...
You have to be willing to strategically cheat and plan your week ahead.
Be willing to move a little bit. You'll be surprised what you can do in 5 minutes.
You MUST believe it will work for you and you can't have the "Well, I'm different" mentality
You need to follow the guide as outlined. When you do, you can expect results in as little as 3 days.
Without a Detailed Guide, You Will End Up Spinning Your Wheels... and Isn't That Why You're Reading This?
Listen, I've seen this happen. My own clients would think they can randomly throw in a cheat day or cheat meal without using the guidelines outlined in the Cheat Your Way Lean Manual. 
THIS is what leads to extreme frustration. 
You have to set up your cheat days, strategically, to work with your body and lifestyle to keep your metabolism working at its best like I show you in the Cheat Your Way Lean Guide.  
Remember, it only takes a few days of dieting the wrong way to shut down your fat-burning abilities make your metabolism come to a sluggish crawl. 
Let me ask you a simple question...
Do you currently take advice from your favorite health magazine, friend or mediocre personal trainer that tells you to "indulge every once in a while"?
It's NOT that easy... and that hasn't worked.
Yes, it's simple, but you need a "map" on how to leverage your cheat meals... and that's what Cheat Yourself Lean gives you. 

100% Risk Free Cheat Yourself Lean Promise
Try the Cheat Yourself Lean Guide for a FULL 60 days. If you are not happy for any reason… or if you're not LOVING the new freedom you're experiencing by enjoying your favorite foods.
Then let us know by simply shooting us an email to support@dietfreeweekends.com and we will promptly refund 100% of your investment. 

Why Is It So Inexpensive?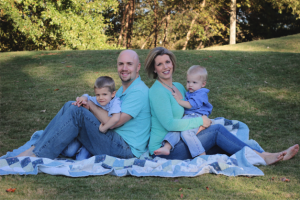 Look, being over 300 pounds, I know the frustrations of trying a diet only to find out that it's just too strict. 
And I take great pride in our customer service team (in fact, I go to church with our customer support manager!). But as we continue, our customer support staff will be "maxed out" and we will need to make adjustments. 
And because its a digital copy, I didn't have to spend thousands of dollars on getting printed books made. You'll get INSTANT access!
All I ask in return of this huge discount is that you simply apply it. Then, you'll build trust with me and hopefully keep me in mind for future programs. Fair enough? 
100% Secure Processing by GumRoad
This isn't a typo and YES, this is a ONE-time investment. 
I know it sounds "too good to be true" at this tiny investment, so let me be clear... I'm aiming to build your trust. You'll see the value in this easy-to-follow manual, take action on it, then see it working. Then I hope to be your "go-to" when it comes to your health. 
Now if you're on the fence about PRICE?...Well, I need to ask you one final question:
What Were You Doing At This Moment
Just ONE Year Ago?
I don't know how this past year has gone for you, but let me tell you...
It's been the FASTEST year in my life so far. 
You've probably been told that the older you get, the faster the time flies by. Well, it's true. And I'm only 40!
And guess what? We BOTH know that next year will go by even faster. Our life is going at the speed of light, and we can't stop that. I just talked to my parents on the phone the other day and they said it's been a complete blur. 
And as you age, you figure out some things by changin, right? You get smarter and more efficient. It's called "wisdom." But is your body changing? Or is it aging and stagnant? Stuck in a rut or plateau?
The older you get, the HARDER it becomes to get the body you want and the harder it becomes to burn fat and lose belly fat.
It can end up being a vicious cycle but I'm here to tell you it doesn't have to be this way.
Thanks to the Cheat Yourself Lean Guide, you won't have to look back again next year regretting you didn't do SOMETHING about it. 
Listen, I believe in you, but more importantly, you must believe in yourself.
The next year is going to fly by even faster than the last. But right now you have a chance to take FULL control over your body, fit into those skinny jeans again, and live life with the body you always wanted...or you can just keep doing what you've always done...and keep getting what you've always got.
No more crash diets. No more guilt...
Your friend,
Mike Whitfield, Master CTT
Loser of 115 Pounds and Creator of the Cheat Yourself Lean Program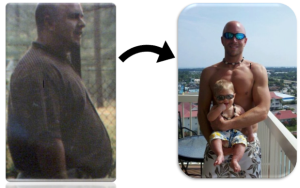 PS - "They say the definition of madness is doing the same thing and expecting a different result…" Truer words have never been spoken. You've been through that. But finally, you CAN expect a different result… thanks to this Cheat Yourself Lean Guide.
PPS - Remember, there is no risk for you. You have a full 60 days to apply these simple tricks to your lifestyle. If you're not happy at all, we'll promptly give you a 100% refund with no questions asked.
100% Secure Processing by GumRoad