WAIT!
Before you get started...
Is it Really Possible to Lose Up to

9 Pounds of Fat in 7 Days?

... and Is It True You Can Burn Off

6 Cookies in 4 Minutes?
I don't know about you, but sometimes I goof up. Even when you're mindful and following all the "rules" of any diet, you have those "Oops" days where you over-indulge. It's pretty frustrating. You lose 5 pounds, then another 2 pounds... and then just weeks later because of some kind of event, you gain 7. It could be a long weekend of too much food, an anniversary or even a vacation. 
You can probably agree with me that it's harder to lose weight after turning 30 as well, right?
The good news is with the Diet Free Weekends, you'll have your doable diet dialed in. The only thing is...
1) What if you have a week, 2 weeks or even more where you "slip up"? (don't sweat it - we all do this including MYSELF!)
2) What if you "over-indulge" over the weekend? I think we all have eaten more than what we planned, right? It happens.
Now you can agree that NO diet, no matter how great it is, can't overcome genetics, a slow metabolism or even when you "slip up". Sure, there are diets that "claim" this, but you obviously know the truth. That's why you made a savvy choice with Diet Free Weekends. It's REAL. It's DOABLE. It's NOT however, a miracle program.
But we don't want that to discourage you. You CAN overcome bad genetics, a slow metabolism and even overcome those "oops moments". That's where these "Oops Circuits" come in. 
Plus... a PROVEN 7-Day plan that eliminates up to 9 pounds of fat in 7 days. Here's how...
A study from the American Council on Exercise (ACE) proved that a special sequence of exercise for just 4 minutes (yes, 4 minutes!) will burn up to 360 calories. That's 6 chocolate chip cookies!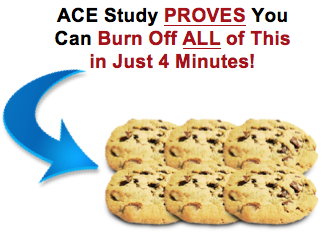 The best part? This groundbreaking exercise sequence requires ZERO equipment so you can do them in the comfort of your own home. It's simple - you just use a special combination of rest, full body movements and intensity.
With just ONE 4-minute sequence, you'll burn up to 360 calories. Now imagine "stacking" up to 4 of these bodyweight sequences and burning over 1,400 calories in just 16 minutes! That's over 8 slices of pizza!
That's what you call working "smarter" and not longer. You can do these anywhere, too!
Not Only Did the Study PROVE You Burn Up to 360 Calories, But the Participants Said They Enjoyed It!
With the sequences being so short (only 4 minutes), the participants said they would be willing to stick with such a program. After all, it makes sense. Improve your health and speed up your fat-burning in only 4 minutes? No wonder they said they enjoyed it!
We have put together the ultimate exercise plan to compliment your Diet Free Weekends Solution so that you can burn fat faster, improve your sluggish metabolism, overcome bad genetics and help you make up for any of those "oops" moments or weeks.
Now even if you don't plan to make any mistakes, you probably know the awesome combination of exercise and diet... especially when it's just 4 minutes.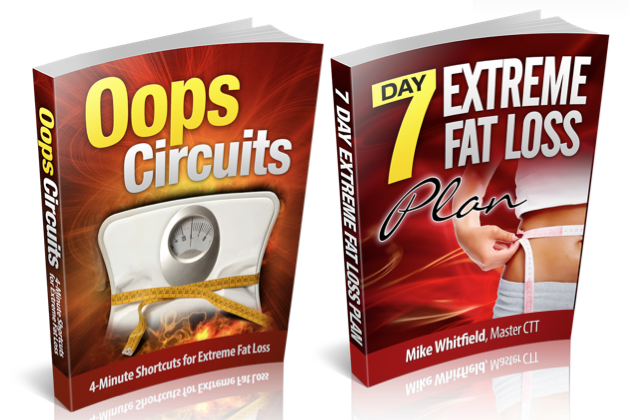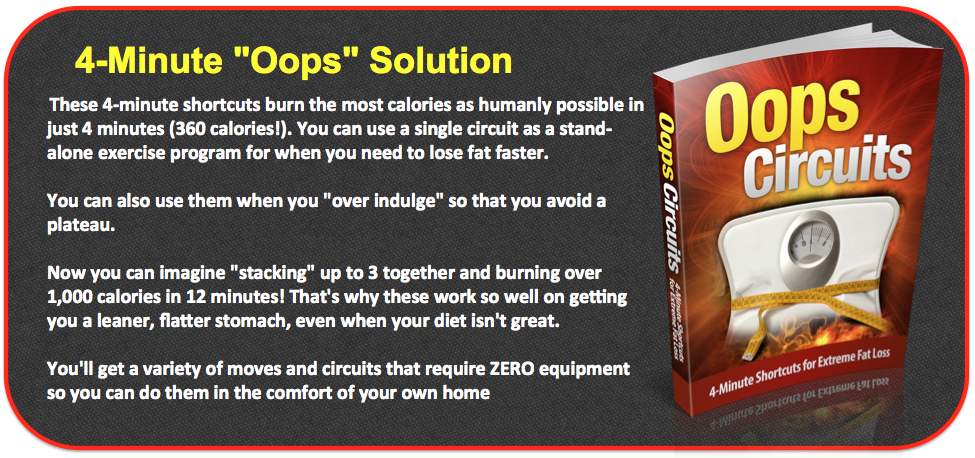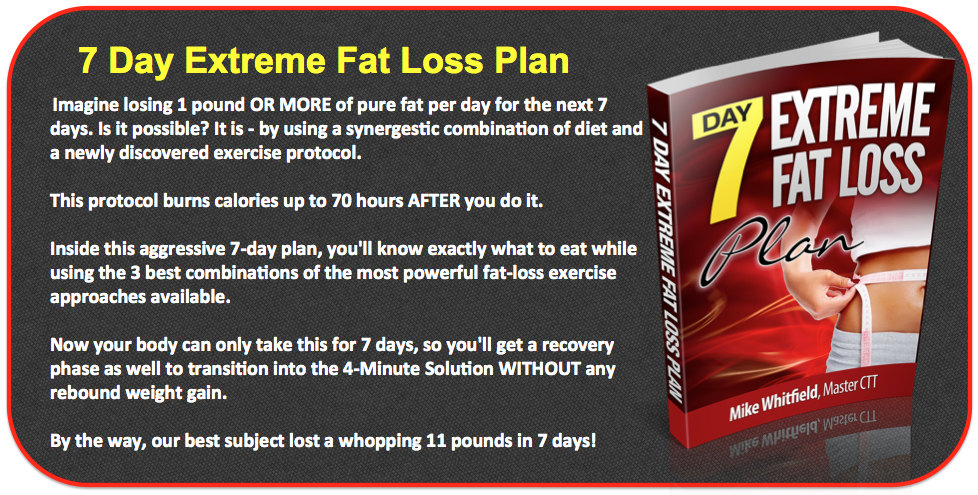 (Includes the High Quality Videos)
Now I have sold the 7-Day Extreme Fat Loss Plan ALONE for $47 and the 4-Minute Solution for $27. That's a REAL value of $74.
And remember, without exercise, you could lose weight, but you'll just end up what's called "skinny fat" with no muscle tone, no definition and less energy.
We realized that everyone MUST eat, but not everyone HAS to exercise. That is a choice from the more serious folks who want to transform the body with classic and proven combination of diet AND exercise. 
That's why wanted to offer this option to only the serious people like you for only...
Go Ahead and Click the Button Below to
Take Advantage of This Proven NEW Science to
Rapidly Melt Fat and Avoid Plateaus
Remember - this is also backed by our 60-day money-back guarantee!
No thanks. I am not willing to use this proven science and expedite my results while avoiding plateaus. I realize that exercise and diet will give me the best results, but I'm not willing to invest in this right now, even at 80% off. I also realize that this is a one-time offer only on this page and I'll never see this offer again. I will pass on this rare offer forever.