Do NOT hit the back button as it will cause errors in your order!
Discover the Most Aggressive,

SAFEST

Way

to Lose Up to

7 Pounds

of

Pure Fat

in

7 Days

 
Now You Can Combine Strategic  Exercise
with Diet Free Weekends to

Instantly


Melt Fat Even FASTER...
Hey! We are so excited about you starting the Diet Free Weekends Solution. However, we have another VERY important message.
Did you know that when you combine Diet Free Weekends with scientifically proven exercise, you can boost your fat-burning hormones by 450%?
Now will the Diet Free Weekends Solution deliver great results on its own - even without exercise? Yes, but it's definitely NOT recommended. 
Look, lack of movement and not exercising will hurt your ability to leverage the fat-burning power of diet intervals. This keeps you from achieving your MAXIMUM results with the Diet Free Weekends Solution.
That's why I put together a step-by-step exercise plan that's specifically designed to work strategically with all 3 phases of the Diet Free Weekends Solution to boost your fat loss hormones by 450%.  This will allow you to easily double the amount of fat you burn and speed up your results. 
This special VIP offer will NEVER be made again and is not available anywhere else but on this page. So make sure you read below on how you can take the Diet Free Weekends Solution to a whole new level while losing the most fat possible...
Can this Strategic Exercise Really


Double

Your Results with Diet Free Weekends?
The research done by the prestigious scientific Journal "Metabolism" proved that the strategic exercise combined with a calorie cycling diet such as Diet Free Weekends burns 450% more fat than dieting alone.
Now if you think about it, this makes sense…
Reason #1 – You'll "Shift" Your Body to Burning Fat and Not Muscle, So You Won't Become "Skinny Fat" - Listen, diet intervals found inside the Diet Free Weekends will help you lose weight. However, without this strategic exercise, you'll just end up losing muscle along with fat, leaving you looking "skinny fat". With specially designed exercise, you'll make sure your body chooses FAT over muscle.
You'll see below the exercise tricks to get a leaner, more attractive loss of weight.
Reason #2 – Look AND Feel Younger – The exercise protocol we use has been proven to naturally SURGE your body with youthful anti-aging hormones. In fact, a study done at McMaster University found that the exercise below boosted brain performance and even improved skin!
Reason #3 – Burn 17% More BELLY Fat – A study published in the Journal of Obesity  found that the scientific exercise below cut dangerous belly fat by 17% in just 60 minutes per week of exercise.
Reason #4 – You'll Use the 3 Biggest Exercise "Tricks" – The exercise sequences we use with our private clients include Metabolic Resistance Training, Metabolic Conditioning and Metabolic Finishers. 99% of the exercise programs on the market lack AT LEAST one of these. When using ALL 3 of these, you crush exercise boredom, avoid plateaus and even fix a broken metabolism.
INTRODUCING:
The Diet Free Weekends Rapid
Results Exercise Blueprint

PLUS...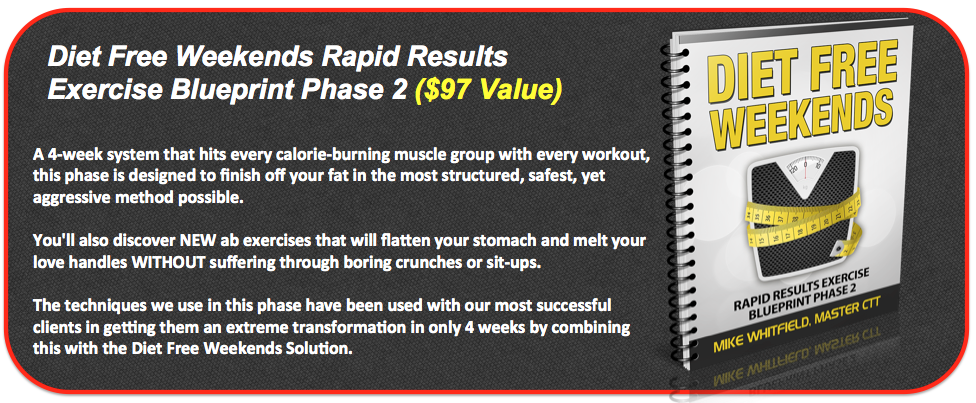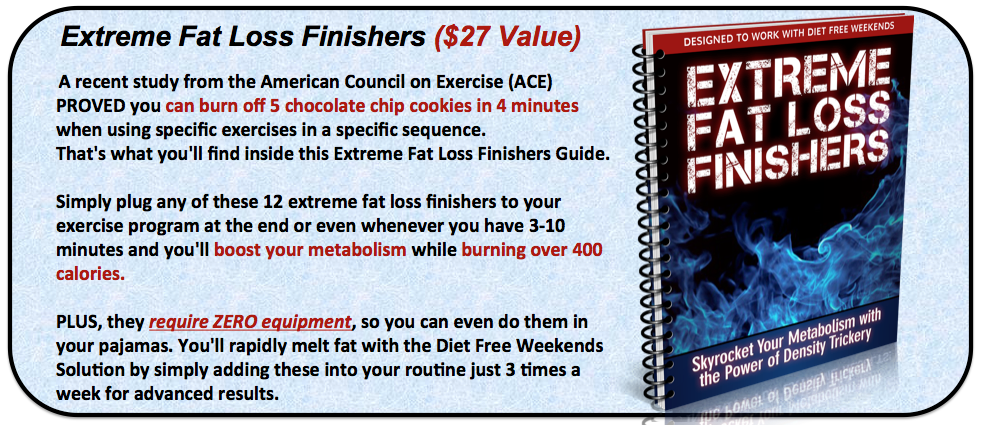 Because You're Serious About Your Results, You'll Get Started While


Saving a HUGE 97%
REMEMBER: Just like everything you've just seen, this is backed by our 100% 60-Day HASSLE-FREE Money Back Guarantee
It's simple - if it doesn't work for you or you don't like it for ANY reason, just shoot an email to our friendly customer support staff and we will gladly refund your money.
Now as you can see, the benefits of my unique exercise approach go FAR beyond the normal advice you see in health magazines, especially combined with the Diet Free Weekends. The Rapid Results Exercise Blueprint has a REAL VALUE totaling $515.
Yet, because I have been in your shoes, I want the next 7 days to completely change your life so you'll stick with it. 
That's why we're going to offer you this Diet Free Weekends Rapid Results Exercise System valued at $515 for just a fraction of that... $15. That's over 97% OFF.

Go Ahead and Click the Button Below
to DOUBLE Your Results with the
Diet Free Weekends Rapid Results
Exercise Blueprint 

While Saving 97%!

No thanks. I realize that exercise and diet will give me the best results, but I'm not willing to invest in this right now, even at 97% off. I also realize that this is a one-time offer only on this page and I'll never see this offer again. I will pass on this rare offer forever.