Cleanse Your Body of Dangerous, Aging Toxins,

Boost Your Energy

, Naturally Target Stubborn Belly Fat

and

Tighten 

Excess Skin

 WITHOUT Any Dangerous Pills…
In Just

3 Days

!
Dear friend,
We are so excited about you starting your new diet. But before you get started, I want you to think of a swimming pool.
Imagine it's the first week of summer and you're ready for your first swim. Over the harsh winter, your pool became a big pond of green, thick sludge.
Although you're excited to swim, you pause before you jump in and realize that you must clean it before you can even think about jumping in.
Did you know our bodies work in the same way? Look…
There's a Reason You May Feel Exhausted All the Time or You're Not Losing Weight, No Matter What You Try
It's also the same reason you might be suffering from digestion problems and storing fat around your waist and dealing with excess skin.
Just like a swimming pool becomes sludge, your body can do the same from weeks, months or even years of poor eating habits and stress.
So what is the reason?
Toxins.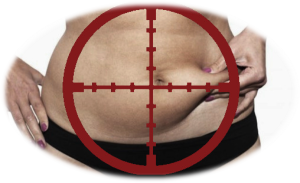 Toxins are everywhere. You consume toxins even from so-called "healthy" foods. These aging chemicals find their way into your digestive tract, causing your body to store fat and even headaches and ongoing fatigue.
No matter what diet or exercise plan you do, you must clear your body of toxins in order for it to perform at its best. It's just like that swimming pool. In the green sludge, you won't be able to swim nearly as fast or efficiently. You can probably imagine what this green sludge can do for our bodies.
If you wouldn't jump into a pool of sludge, would you start a diet with sludge sitting in your system? Of course not.
The bad news is that there are "fad" diets and supplements on the market that require you to consume nothing but juice or require dangerous pills or potions. The worst part? They are typically 14 – 30 days!
That's not very doable… and it's not even healthy.
The good news…
You Can Flush Away These Toxins that Have "Piled" On for Years in Just 3 Days for a Fresh Start…
It doesn't require you to skip eating. In fact, the only way to completely flush these toxins while giving your body vital nutrients to heal itself is to eat delicious, nutrient-rich foods, while avoiding other foods.
It's easy. Just follow this schedule...



After the Short 3-Day Detox, You Can Return to Eating Your Favorite Foods
You can use this 3-Day Detox Solution before you start or any time you want to give your body the "oil change" you know it deserves.
You'll get a detailed, day-by-day plan to cleanse your body of dangerous toxins. You'll know exactly what to eat on what days, including done-for-you meal plans and recipes. You'll even get a list of foods to enjoy and the foods to avoid.
It's the shortest detox plan to help you …
Increase your energy naturally

Improve your focus

Improve your digestion so your body responds better to ANY diet

Speed up fat loss, especially around your stomach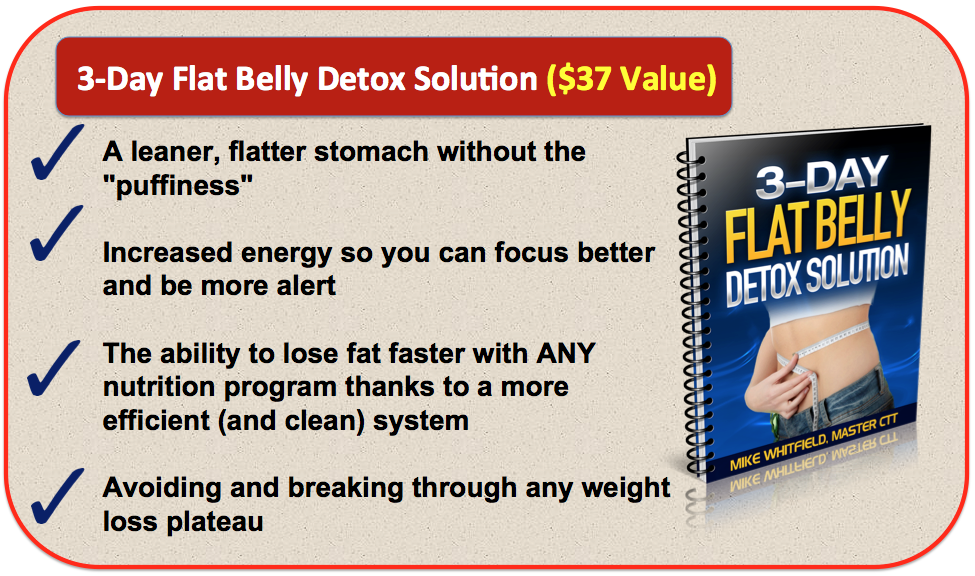 For the fastest results possible, follow the 3-day detox and then immediately jump into the 7-Day Extreme Fat Loss Solution.
With your system working at its best from the detox, your results from the 7-Day Solution will make you look like you've been on a 90-day transformation! 




Remember – Everything you've seen here is backed by our 60-day 100% Money Back TRIPLE Guarantee. If you are not SHOCKED by your results using ANY of these scientifically proven programs, then simply let us know and we'll gladly give you your money back.
No thanks, I'll pass on the opportunity to get rid of toxins and get a flatter stomach and 53 fat-burning smoothies and recipes. I realize I won't have the opportunity to take advantage of this offer, even at a higher price. I'll pass on this special offer forever.