Legitimately TARGET Belly Fat and Build a Bullet-Proof Back with 51 NEW Ab Finisher Follow-Along Videos
PLUS, the PERFECT formula to

Melt Your Embarrassing Excess Skin

So You Can FINALLY Discover Your Abs At Any Age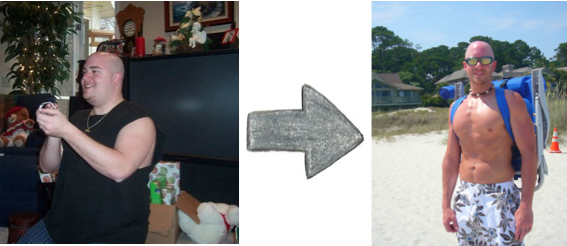 Whether you're doing the best ab exercises or not, stronger abs does not equal abs you can actually see. 
You already know the power of using diet intervals and the studies show how it can burn more fat in less time. But in order to see flatter, more defined abs, you have to work them directly and consistently just like any other muscle.
So how can you combine the power of diet intervals as well as work your abs with the latest cutting-edge exercises that can be done in your living room without sacrificing a lot of time?
That's where these NEW 51 Ab Finishers come in. With 51 FOLLOW-ALONG finishers and videos, you'll get the same advanced techniques once used only with high level athletes. You can do these short 3-10 minute sequences to legitimately TARGET belly fat while boosting your metabolism at the same time.
Every sequence has a ZERO-EQUIPMENT option and we show you how to modify it to your unique fitness level. As you lose belly fat and even tighten and tone excess skin, you'll also be improving your posture.
You'll discover NEW and never-seen-before ab exercises like the "Plank Jumping Jack", "Around the World" and more, all with easier options. And you can do them in the comfort of your own home in the morning, in the middle of the day, or even just before bed to get a flatter, sexier stomach with this proven science.
Plus, we have a special surprise for you, too...

51 Ab Finishers Main Manual
All 51 sequences are laid out for you in an easy-to-understand format so you can get started right away. It only takes 3days a week (only 10 minutes or less).
Plus with over 50 varieties, you'll NEVER get bored and will always be motivated. You'll get detailed descriptions and photos, along with how to modify any sequence to your fitness level.
51 Follow-Along Ab Finishers Videos

This brand new Ab Finishers System includes high quality videos you can download to your phone, computer, iPad or any other device as well as watch it live streaming. The best moves to flatten your stomach require the best coaching, which you can't get from photos and descriptions.
Sure, the photos and descriptions are included, but why not do every fat-melting move with me along with other certified trainers to help you take advantage of every sequence?
Simply hit play, follow along and finally reveal your abs with some dedicated hard work for just a few minutes.
Primer Ab Finishers
If you're new to using these new Ab moves, you'll start with these. They will "prime" your body for the more advanced sequences in the manual. It's the perfect place to start to start melting belly fat without overdoing it.
Hybrid Ab Finishers

A fun combination of new bodyweight moves along with basic equipment like dumbbbells. Now don't worry, we'll give you zero-equipment options for these, too.
Jump Rope Ab Finishers
You'll use a variety of NEW ab exercises and the power of a fat-burning jump rope, which burns up to 19 calories a minute! We'll even show you the perfect no-equipment option that can replace a jump rope.
Ladder Ab Finishers

Using the most addictive method, you'll blast through plateaus and crank start your metabolism inside these ladder sequences. A ladder will challenge your core by using a variety of reps and intensity.
The "Dungeon" Ab Finishers

Once you master the main sequences, you'll dive into these advanced finishers for even FASTER results. Using the latest science, you'll discover new moves and schemes to melt belly fat and skyrocket your metabolism.  

PLUS the Perfect Formula for Losing up to 11 Pounds of FAT (not water or muscle) in Just 7 Days...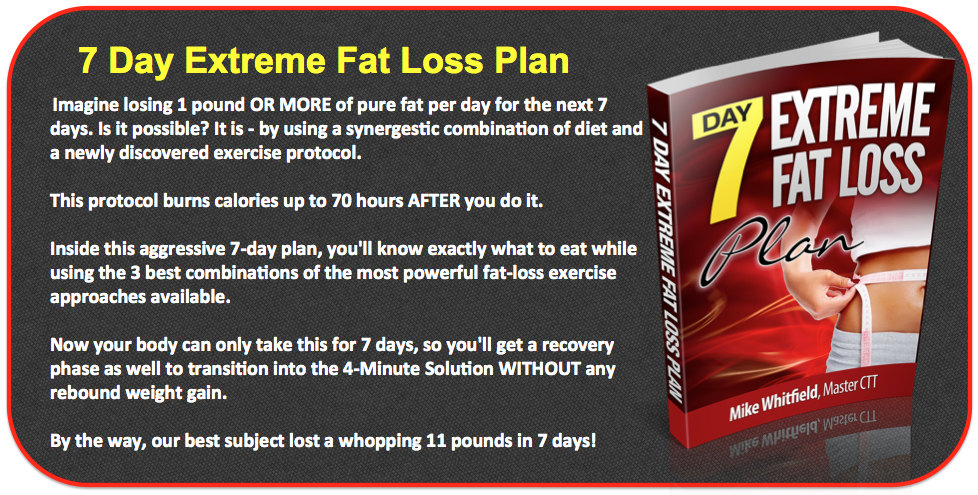 Whether it's bouncing back from the holidays,  getting ready for a beach trip, reunion or you know your photo will be taken soon, this will be your blueprint. Our average fat loss in this program with our clients is 7 pounds and the record was 11 pounds! 
There are no complicated diet formulas or anything, either. It's easy to follow. Just stick to the plan and you'll melt fat faster than ever... up to 11 pounds in 7 days. Warning - this diet approach should only be used once every 4-6 weeks at most.
Now I have sold the 7-Day Extreme Fat Loss Plan ALONE for $47 and my Ab Finishers Solution for $67. This is a REAL value of $114.
And remember, without exercise, you could lose weight, but you'll just end up what's called "skinny fat" with no muscle tone, no definition and even less energy.
We realized that everyone MUST eat, but not everyone HAS to exercise. This is a choice from the more serious folks who want to finally flatten their abs and tighten their excess skin using science, not fluff. It is hard work, but remember, it's only a few minutes, 3 days a week. 
That's why wanted to offer this option to only the serious people like you for only $17…
Go Ahead and Click the Button Below to
Get a Leaner, Flatter Stomach and Legitimately Tighten
Excess Skin While Saving 83%!

Remember - this is also backed by our 60-day money-back guarantee!
No thanks. I realize that exercise and diet will give me the best results, but I'm not willing to invest in this right now, even at 83% off. I also realize that this is a one-time offer only on this page and I'll never see this offer again. I will pass on this rare offer forever.